Do you have an eye exam coming up? That's great news!
Taking care of your eye health and vision is an important responsibility, and eye exams are an essential first step towards getting the care you need. However, if you're new to our practice or haven't had an eye exam in a while, you might have a few important questions about the process and how you should prepare.
Today, we're going to go over what you should do to prepare for your eye exam. More specifically, we're going to answer one of the most common questions we hear from new patients: can you wear contact lenses before your eye exam?
Wear Your Contacts for the Right Appointment
Let's get the big question out of the way: you can wear contacts to your eye exam, but it depends on the type of exam you're having.
As a full-service optometry practice, we don't just perform eye exams, we also offer children's eye exams, laser eye surgery consultations, contact lens exams, diabetic eye exams, dry eye evaluations, and so much more! However, we might not recommend wearing your contacts to some of these appointments.
Even though contact lenses can provide the clear, crisp vision you deserve, they can change certain aspects of your cornea that we may need to look at to determine your eye health and vision quality.
So, which appointment should you wear your contact lenses?
Contact Lens Exams & Follow-Ups
If we're fitting you for a new contact lens prescription, please wear your contact lenses to your appointment.
If you're visiting us for a contact lens follow-up, please wear your contacts to your appointment. We'll look at how your eyes are adjusting to your lenses and make any changes to your prescription to help you find clear, comfortable vision.
Comprehensive Eye Exams
Please wear your contact lenses to your exam.
Laser Eye Surgery Consultations
A huge part of your consultation is examining your cornea and determining if it is healthy enough for laser eye surgery. If your contact lenses change the shape of your cornea, like orthokeratology contacts can, then it might affect your candidacy for laser eye surgery.
We'll ask you to not wear your contacts 3 days prior to your consultation for soft contact lenses and 1 week prior to your appointment if you wear rigid gas permeable lenses, and for several days before your surgery.
Dry Eye Appointments
If you struggle with dry eye, it might be difficult to wear contact lenses to begin with. However, even if you only have contacts to help correct your vision, we recommend not wearing your contacts at all until you've seen our team for a dry eye appointment.
Contact lenses can affect the quality of your tear film and possibly exacerbate your dry eye symptoms. In some cases, they may be the cause of your dry eye.
What Do You Need for Your Eye Exam?
Now that we know what type of appointments you can wear your contact lenses to, it's time to take a deeper look at the eye exam process and how you can prepare for it.
Even though we personalize your exam to meet your needs, we always ask our patients to bring in certain information so we can provide the most comprehensive, convenient experience possible.
Before you come in for your appointment, please make sure you bring:
Your Insurance Information
We provide direct-billing to a number of insurance providers, both medical and vision. Please visit our Insurance & Payment Information page for more information on these providers.
Vision insurance typically covers costs associated with eyeglasses, contact lenses, and routine eye exams. Medical insurance, on the other hand, can help cover costs associated with eye disease treatments, emergency eye care, and medications.
Please speak with your insurance provider for more details about what your plan may cover.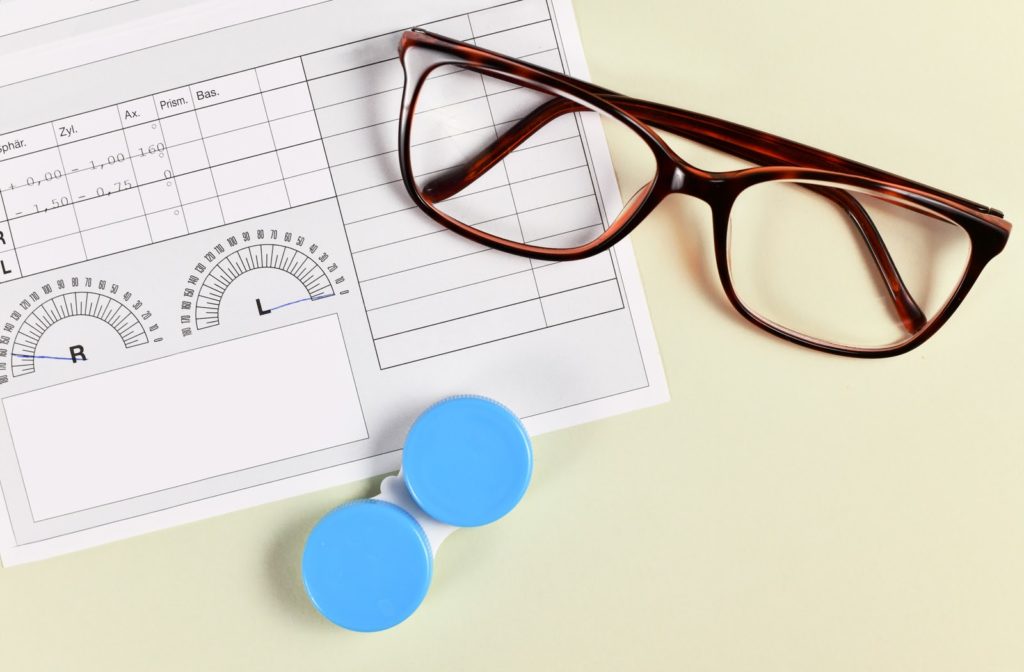 Your Current Lens Prescriptions
We always take the time to ensure your eyeglasses and contact lenses are up-to-date and provide you with the clearest vision possible.
Please bring any contacts and glasses you regularly wear to your appointment. We'll update your prescription and let you know if you need new eyewear to meet your needs.
A List of Your Current Medications
Not only can medications help manage and treat a number of conditions, they can also have side-effects our team may need to address.
For example, certain medications like antihistamines, antidepressants, birth control, and beta blockers are all associated with dry eye syndrome. If you struggle with this condition, we may want to look at your current medications to determine if they are a contributing factor.
Your Personal & Family Health History Information
Getting a clear understanding of your eye health also means taking a look at any past health conditions that may increase your risk for eye problems. Family history of eye diseases like glaucoma and age-related macular degeneration could also increase your risk of eye diseases and conditions.
Other health problems that could affect your eyes include:
Diabetes
Sjögren's syndrome
Parkinson's disease
Vitamin A deficiency
High blood pressure
A Calendar or Planner
Once we wrap up your eye exam, we'll love to book your next one!
We usually recommend eye exams once every year, but we may ask for more frequent exams if you have a particular eye concern we would like to monitor or treat. Please feel free to bring with you a calendar or planner so you always know when your next eye exam is.
We'll also provide reminders for your next appointment as we get closer to the date.
When Was Your Last Eye Exam?
Regular eye exams are essential to maintaining your eye health and enjoying your vision.
If you haven't had an eye exam in a while, or you're ready to see what a new pair of contacts or glasses could provide you, contact LaFerla Family Eyecare and book your appointment today!